"IT IS EASIER TO BUILD STRONG CHILDREN THEN TO REPAIR BROKEN MEN."
~ Frederick Douglass ~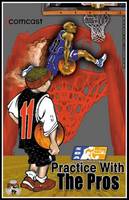 Junior S
BA
As a pioneer in the street basketball industry the SBA recognizes the importance of training, developing, and mentoring future street ball legends. Keeping an eye towards the future is more than just a vision. It is the SBA mission. Basketball has been known to teach sportsmanship, discipline, and structure among children. That's why the SBA is an excellent vehicle to initiate programs to develop leadership, sportsmanship, educational opportunities, as well as athletic and business excellence.

It is extremely important for the SBA to find ways to give our Youth a positive outlet for thinking and behavior. The Junior SBA Leagues stresses the importance of education, positive behavior, and self-confidence, while using basketball as a source of recreation, motivation and introduction to our enrichment programs.

Through basketball, we are able to build character, confidence, responsibility, accountability and a host of other qualities that will aid in personal, family, and community development. Basketball teaches the value of Teamwork, not I work. This is a fundamental life lesson that can be employed in all situations to further enhance our quality of life.

As the business of basketball continues to prosper, the SBA is determined to be community-based, allowing fans the opportunity to experience some of the most competitive, dazzling, artistic, and innovatively styled street ball in a safe and affordable family atmosphere. The Junior SBA not only gives young boys and girls the opportunity to become the next street ball star, but also forges community relationships with organizations looking to make a positive impact in their city.
A LEAGUE OF THEIR OWN
The Street Basketball Association, LLC is a Maryland limited liability corporation. It is the first ever, professional street basketball league that showcases both talented players and entertaining basketball. Headquartered in Mitchellville, Maryland, the SBA is prepared to tell the world what street basketball is about...entertainment, excitement, excellence.

The SBA is the vision of individuals committed to the advancement of street ball. Street ball is not just a social phenomenon in the United States, but a growing one across the globe. Whether played on dirt courts in the backyard, a small village, or the asphalt of inner city playgrounds, this "street" brand of basketball boasts an unmatched passion and creative enthusiasm that crosses over all geographic, cultural, and economic lines.

The SBA's mission is to showcase the best street ball legends and professional basketball players center stage in an organized competitive environment, entertain fans and reveal which cities have the best talent in the world. Fans experience some of the most dazzling and unparalleled street-ball players and team performances available anywhere. The SBA also creates a fertile landscape for players to develop their talent in a highly competitive atmosphere under the guidance and leadership of former NBA professional players and industry professionals.

The SBA was founded upon the principles of giving basketball back to its roots; THE STREETS. Basketball has been played and enjoyed by millions for many years. Our association is focused on delivering a basketball product that exemplifies the passion, heart, and love for the game, while playing it in its purest and rawest form. Our continued dedication to the growth and development of street ball worldwide has given us the platform to conduct clinics, create teams and leagues, spread the love of basketball, while educating and entertaining players, fans, and basketball enthusiasts throughout.

The Street Basketball Association is reminiscent of the Negro Baseball League in that it promotes minority entrepreneurship/ownership and community development. The SBA aims to give professional basketball to the urban communities and to create an unparalleled game of loyalty that is amiss in professional sports today. SBA leagues and teams will reach out and form everlasting bonds with their fans and community leaders. Each SBA league, team and local business/organization will work together to form a partnership of growth and development as we invest in our communities.