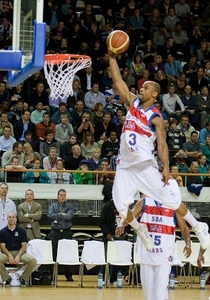 The Street Basketball Association is pleased to announce that Taurian Fontenette, aka, The Air Up There/Mr. 720 will join SBA All-stars' street ball legends Hot Sauce, 50, Pat Da-Roc, Da Aggressor, Air Bama, and ESPN City Slam Champion High Rizer on the upcoming 3 city/country SBA All-star Street Ball tour of Baltic Europe October 11th-18th. In addition, Duke Tango has come on board to host and be the MC/Announcer for the entire tour.
We are very excited to have both Air Up There/Mr. 720 and Duke Tango be part of the tour. With the combination of Air Up There, High Rizer, and Air Bama collectively these upcoming SBA Shows will display the top three most athletic and amazing dunkers in the world. In addition, added to the mix are the top two street ball showman, Hot Sauce and Pat Da-Roc and street ball veterans Da Aggressor and 50…
The street ball fans in Baltic Europe are going to be treated to a first class street ball show produced and directed by the SBA, the top street ball organization in the world live, raw, and un-cut," states Matthew Rosner, Director of Basketball for the Street Basketball Association; and with Duke Tango on the microphone its going to be crazy…all I can say is that you are going to hear a lot of OH BABY/OH BABY throughout the duration of the tour….
The SBA will be playing against pro teams from Vilnius, Lithuania, Tallinn, Estonia, and Riga, Latvia…These players have never played against the athletes of this caliber that the SBA All-stars are bringing over to Europe… Better lace up tight, tape those ankles, and watch your head!
In addition, the SBA will conduct a clinic and SBA Expo for 100 orphanage children at Sarunas Marciulionis basketball academy. The event will be produced and hosted by the U.S. Embassy in Vilnius, Lithuania and US Ambassador John Cloud…