SBA International Basketball Federation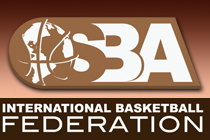 SBA Announces International Street Ball Federation. Initial Coalition Consists of 30 Members Representing 27 Countries on 6 Continents The SBA was very pleased with the participation of individuals and organizations in the Street Basketball Federation Conference call. 
A total of 22 individuals from the following international jurisdictions/countries were party to the conference call and signed on as members of the new  "sanctioning body".  United Kingdom, Australia, New Zealand, Nigeria, The Gambia, Ghana, Russia, Latvia, France, Germany, Poland, Lithuania, Holland/Netherlands, Estonia, Spain, China, Brazil, Ecuador, Puerto Rico, West Coast United States, South East United States and the SBA Executive Team.

REPRESENTING COUNTRIES
North America:  USA (East Coast, West Coast, and Southeast) and Puerto Rico
South America:  Argentina, Brazil, Chile, and Ecuador
Europe:  UK, Belgium, Czech Republic, Estonia, France, Germany, Holland/Netherlands, Latvia, Lithuania, Poland, Russia,   Spain, and Sweden
Asia:  China, Indonesia, and Japan 
Africa:  Ghana, Nigeria, The Gambia, Central Africa (Cameroon, Central African Republic, Chad, The Democratic Republic of Congo, Equatorial Guinea, and Gabon)
Oceania:  Australia and New Zealand
The measures that were agreed upon immediately are as follows:
1.  Adoption as the SBA logo as the official brand of Global "streetball"
2.  Further initiate strategies to protect and further develop the "streetball" industry
3.  Development of officially sanctioned "streetball" tour with an elite (world's best players) "streetball" all-star team.  The 2 year tour will travel and promote the "streetball" industry on 6 continents.
4.  Plan for SBA Street Ball World Cup 2021-2022.  All Federation Member Countries Automatically Qualify.
Individuals/organizations that did not participate in the initial conference call and who would like to become a member, please contact: John Hinkson, Dir. of Business Relations/Development, at jhinkson@streetbasketballassociation.net
For those who are interested in either partnerships, tour opportunities or interviews, please contact:
Matthew Rosner, Director of Basketball, at mrosner@streetbasketballassociation.net
We look forward to this new chapter of growth in the "streetball" industry.