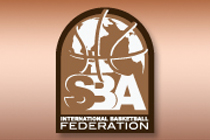 REPRESENTING COUNTRIES
North America:  USA (East Coast, West Coast, and Southeast) and Puerto Rico
South America:  Argentina, Brazil, Chile, and Ecuador
Europe:  UK, Belgium, Czech Republic, Estonia, France, Germany, Holland/Netherlands, Latvia, Lithuania, Poland, Russia,   Spain, and Sweden
Asia:  China, Indonesia, and Japan 
Africa:  Ghana, Nigeria, The Gambia, and Central Africa (Cameroon, Central African Republic, Chad, The Democratic Republic of Congo, Equatorial Guinea, and Gabon)
Ocenia:  Australia and New Zealand
 
The measures that were agreed upon immediately are as follows:
1.  Adoption as the SBA logo as the official brand of Global "streetball"
2.  Further initiate strategies to protect and further develop the "streetball" industry
3.  Development of officially sanctioned "streetball" tour with an elite (world's best players) "streetball" all-star team.  The 2 year tour will travel and promote the "streetball" industry on 6 continents.
4.  Plan for SBA Street Ball World Cup 2011-2012.  All Federation Member Countries Automatically Qualify

MEMBERSHIP
WHEREAS SBA International Basketball Federation members agree to work together to promote and develop the game of Street Basketball throughout the world utilizing the SBA's Global Infrastructure; implementing strategies and programs to jointly enhance and cooperate in the promotion/development/marketing of the sport of basketball in an organized, competitive, entertaining, safe, interactive, and fan friendly atmosphere and environment.

THEREFORE consistent with the framework established within the SBA International Basketball Federation:

PURPOSE
a) To share and provide access to basketball/entertainment industry experts and resources in regards to the marketing and promotion of the basketball industry, in addition to creating full scale tours, camps, clinics, leagues, exhibitions, and productions, from initial event/show/tour creation to final event breakdown, and leveraging SBA relationships with SBA Street Ball All-Stars, former NBA Legends, promoters, sponsors, sports agencies, organizations, and entertainment industry contacts.

b) To help promote the popularity of the game of street basketball globally, combining resources using the current SBA International Basketball Federation infrastructure, implementing strategies to create promotional basketball developmental and entertainment events and tours with the SBA All-stars and former NBA Legends.

ACTION PLAN:  
The SBA International Basketball Federation acknowledges that an action plan will be developed that is consistent with the purpose of the coalition, which further identifies options and opportunities within the following areas:

• Joint initiatives to promote and develop events, tours, expos, street ball leagues, camps/clinics, and exhibition shows featuring the SBA All-stars and/or former NBA Legends.

• Support the development and operations of events, tours, and shows around the globe as well as create opportunities to market the sport of basketball with camps, clinics, and demonstrations to enhance overall player development.

• Facilitate the development of joint use agreements for sharing of resources and strengths in their respective areas where the SBA can consult and work together to strengthen all parties leverage to promote the street ball industry and initiate basketball development projects with sponsors, government agencies, advertisers, venues, and the media.

• Facilitate and initiate joint projects, information sharing and agreements for the overall planning purposes.

• Facilitate Basketball marketing partnerships and create sponsorship packages to attract Basketball associates, organizations, corporations, government agencies, and advertisers in the attempt to secure additional sponsorship and marketing dollars to support the overall SBA International Basketball Federation.

• Joint initiatives to facilitate additional media exposure and acquire corporate sponsors.  SBA to offer consulting services working directly in partnership with SBA International Basketball Federation Members in the area of overall basketball management to assist in the operations, marketing, and development of street basketball tours, basketball leagues, shows, expos, and special events.

Members of the SBA International Basketball Federation will initiate the start of a long-term successful relationship with the SBA building a foundation for innovation and growth based on similar goals that will ensure that this strategic alliance within the Federation will be a collaboration of dedicated partners striving to create a property to be envied by many yet respected for its mission.  Members will be able to leverage the relationships created by the SBA's global infrastructure to protect the Federation's interest within the international basketball industry and work together to benefit from any additional business opportunities that are presented.

For additional information and/or become a member (Membership is open to United States organizations as well)

Individuals/organizations who would like to become a member, please contact: John Hinkson, Dir. of Business Relations/Development, at jhinkson@streetbasketballassociation.net
 
For those who are interested in either partnerships, tour opportunities or interviews, please contact:
Matthew Rosner, Director of Basketball, at mrosner@streetbasketballassociation.net
 
We look forward to this new chapter of growth in the "streetball" industry.